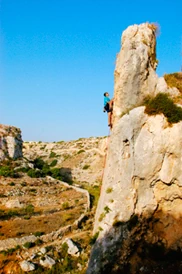 There's ain't much to dislike about the Maltese archipelago, a chain of small, stony Mediterranean islands beetling with limestone bluffs, boulders, and mini-spires, as well as an impressive array of deep-water soloing opportunities.
No, you'd have to be a stone-cold foolio not to drool over the mostly trad and mixed (with a few sport crag) possibilities on the stonker limestone — 1,200-plus routes, all told, between the main island of Malta and a neighbor, Gozo — of this island chain south of Sicily. And with Malta Rock Climbing, the authors John Codling, Andrew Warrington, and Richard Abela have, for the first time since the 1970s, compiled a comprehensive guide to this little-known destination.
A visually rich, full-color guidebook with photo topos and well-delineated road maps, the book points you in the right direction for an offbeat stone-and-sea vacation: this isn't Kalymnos or Thailand, where hundreds of clip-ups and holiday grades attract the masses, but rather a traddy bastion favored by sun-hungry Brits (note the E grades) and a vacation lure for those who like a little spice. (As the book says, some of the climbs have only seen one or two ascents; many have an emphasis on limestone-threading skills and creative protection). Crag names like the Xagga Chimney, Ras Ir-Raheb, and Ghajn Zejtuna given an idea of just what an exotic — and splendid — trip it will be, and tasty action shots round out the mix. The climbs take white and grey, slabby to vertical to overhanging limestone, and the open sea beyond stretches to a deep-blue horizon.

Climbing.com – Matt Samet