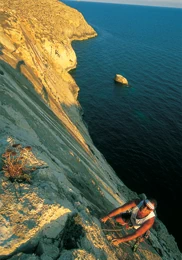 The Maltese islands offer a varied and scenic playground for climbers of all levels. Whether you are looking to tick off some short and sweet challenges or setting out to push your limits on a multi-pitch adventure, there's a spot here to suit your style.
Malta and Gozo have all the advantages of Mediterranean islands, the sun, warm seas, the excellent cuisine and a warm and friendly welcome… but with the added bonus of hosting both traditional climbing areas and designated sport climbing crags. The islands are unique in offering visitors the best of both climbing worlds.
This comprehensive guide catalogues 21 areas on 3 islands, sporting 1200+ climbs described in detail and illustrated by full-colour photo-topos. Road and access maps for each crag and captivating action photographs throughout complete the volume. Malta Rock Climbing: the Comprehensive Guide makes decades of route bagging, passed down from one climbing generation to the next, accessible to all in a single resource.

Sierra Book Distributors